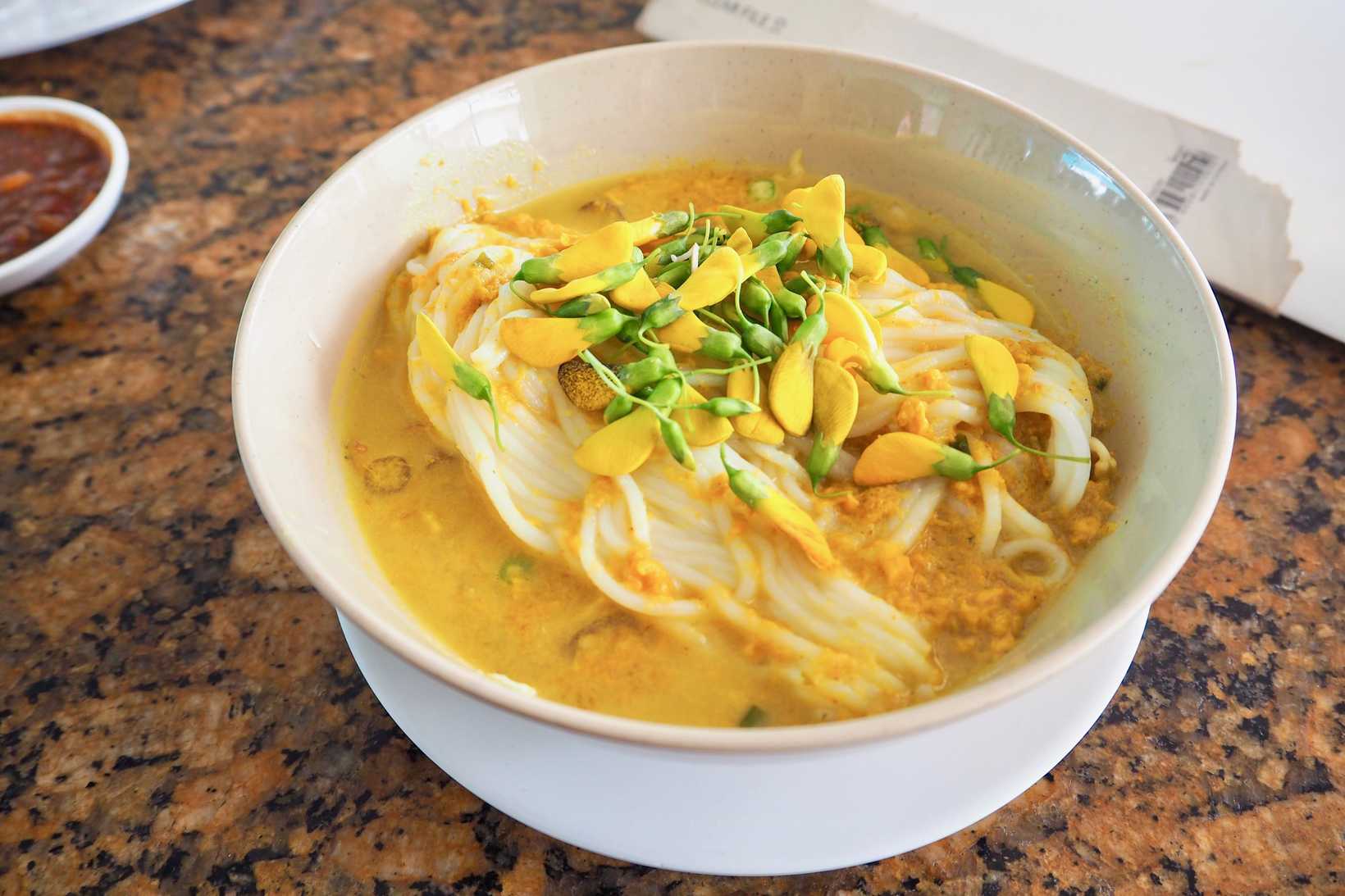 10 Must Try Siem Reap Foods Before You Leave
Siem Reap is not only known for the Buddhist temple and the Angkor Wat, it is also known for its appetizing as well as original cuisine. Tourists visit Siem Reap and eat a lot of dishes however there are some dishes that are amazing and there is need for tourist to eat them before departing this lovely destination.
Let's take a look at 10 foods which you must try before leaving Siem Reap;
1. Prahok
This is well known as a unique feature of Cambodia cuisine. Whenever the locals want to make this food, the locals will prepare a processed fish, sugar, pepper, garlic, salt and cold rice.
The first thing is that they will process the fish and expose it to sun for a day, they will then mix it with the essential ingredients and the mixture will be kept in a jar for several months. This food will then be eaten when it becomes pasty and the color turn gray with a particular smell. Prahok is a traditional food of Siem Reap.
2. Amok Fish
Amok fish can be found easily in Siem Reap due to the fact that it is the outstanding dish of Khmer's cuisine. Tourist said it has an eye catching look because it is served in fresh coconut and occasionally wrapped with banana leave with coconut cream on top. It is a thick yellow curry and they usually use white fish or catfish as the major ingredient.
The unique flavor of amok fish is as a result of the spice used for the preparation. Although different families have their own personal recipe for this special food, the spices, which are indispensable in the preparation, include: salt, garlic, Prahok, lemongrass, sugar, chili, galangal, chili paste as well as coconut milk. It can also be served with rice.
3. Green Mango Salad
There are several species of good mango varieties in Siem Reap; this makes it easy to prepare the green mango salad and the locals as well as the foreign tourist love this particular dish. It is made from a tart green mango and seasoned with lemon juice, fish sauce, sugar, minced garlic, red hot pepper and fresh herbs.
This dish is well known for its moderate sourness of the green mango and the great taste of the dressing. Green Mango Salad is very popular in the region and can be ordered from any restaurant or roadside food stall in Siem Reap.
4. Chili Fried Insects
When you work down the street in Siem Reap, you'll observe that there are many insect which are fried and sold. This food is very popular among the indigenes in the past, this is because insects are very cheap and they also have high nutritional value.
Fried insect are very popular nowadays and can be found in some of the popular restaurants in the city. In Siem Reap, there are some markets that also specialize in the selling of various kinds of insects such as wasps, spiders, crickets or silkworms.
These insects are seasoned with sugar, salt, herbs and chili; they will then be fried in a deep oil pan. The Chili fried insects taste so good and you'll find them amazing.
5. Kralan - Bamboo Sticky Rice
The main food of every meal is rice and most family in Southeast Asian do not pay much attention to this food. But bamboo sticky rice in Cambodia will convince you to take a try for the first time. It is cooked in a bamboo section, so there is need to first collect the bamboo and then process it so that it will be ready for usage. After cooking, coconut is later added to it so as to add flavor to the rice. You'll definite love the fresh taste of the coconut with the savory taste of sticky rice.
6. Nom Banh Chok
Nom Banh Chok is popularly known as Khmer noodles by tourist and is one of the best noodles in Cambodia which is gradually becoming a noodle symbol for the country. It is mostly served as breakfast but in Siem Reap, it is available in all restaurants and can be used for breakfast, lunch and dinner because everyone loves it.
The main ingredient is rice noodles, curry sauce, spring onions, and veggies like fresh mint leaves, banana flowers, bean sprouts, some pork slice and cucumber. The noodle is unique because of the way the curry is made.
7. Cambodian BBQ
The indigenes as well as tourists are in love with grilled food that can be found here and there in Cambodia and most of the restaurants here have a charcoal-burner. The grilled foods have lots of ingredients and food that can be seen grilled in Siem Reap include seafood like fish, squid or meat like pork, shrimp, duck, chicken, beef and insect. Cambodian BBQ has a lovely flavor because of the spices used.
8. Khmer Cakes
This cake is sweet and also savory, it is made with Mung beans, taro and some fruit to enhance the sweetness. This is a great option for people who love eating something sweet. However the amazing thing about the cake is how it combines sweetness and savor and this is what makes it belong to everyone. You'll find the taro Mung inside when eating it as well as some dried fruits. When you bite it, you'll observe that it is crunchy outside and the inner part is soft and this will make you enjoy the cake.
9. Stir-fried ants with beef
Stir-fried ants with beef is one of the dish which is made with insect and can be found in Siem Reap, this dish appeal most tourist and the name speaks about the ingredient with which it is made.
Tourist that goes to Southeast Asia is very familiar with food made with ants but the association of ant and beef can only be found in Siem Reap. Ants of various sizes are stirred with spices such as ginger, lemongrass, garlic, shallots and thinly sliced beef. The dish has a sour flavor, which is as a result of the ants impart during the marinating.
10. Jaggery sweet soup
After trying various foods in Siem Reap, Jaggery sweet soup is perfect to satisfy your taste. It is produced from cane juice, dairy, and palm sap. The color of Jaggery can be brown to dark brown and this will make the color in a bowl of jiggery sweet soup. It is rich in iron and also contains several mineral salts which are not found in ordinary sugar. It can be used to re-boost your energy for a journey in Siem Reap. The stew is thick with potato cubes and is best served cool with some ice.
Taking a trip to Siem Reap in Cambodia does not involve watching wildlife, going to places and meeting people. It is crucial to note the food and cultures of the locals so as to appreciate the cultural diversity which exist in the world. It is likewise important to eat their various meals and also learn how to make them if possible. And when ensure you taste these foods, you'll find your trip to Siem Reap amazing and you will definitely want to come back to have more of these dishes.