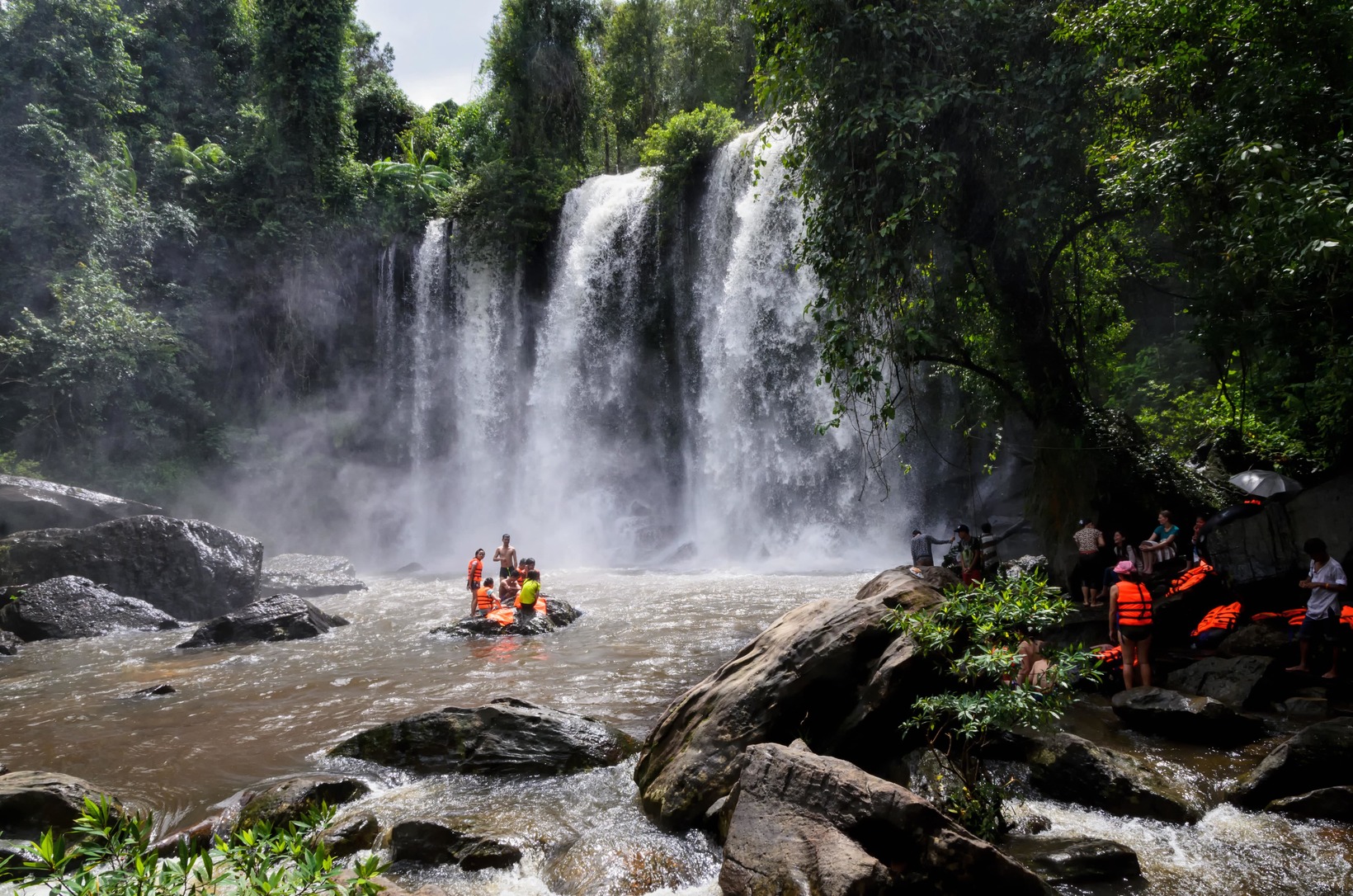 Phnom Kulen National Park - Siem Reap
Siem Reap is a very beautiful place in Cambodia known for its many tourist attractions. It has many popular resorts, temples, night markets, restaurants, museums and many more. One of the most famous tourist's attractions of Siem Reap is the Phnom Kulen National Park.
The Park is located in the Kulen Mountains (earlier known as Mahendraparvata), which is approximately two and a half hours drive from Siem Reap town. Even though Tuk Tuk is the most commonly used way of traveling, this cannot be an option while going to the Phnom Kulen Park, as the roads do not allow that. The best way to reach there is by car or motorbike, as it takes the minimum amount of time. There is also an option of reaching the Phnom Kulen National Park via bus, which is a little more time consuming but more pocket friendly.
The National Park has an entrance fee only for foreigners, which has to be paid before entering the park. This place is one of the biggest tourist attractions for Hindus, as many Hindu mythological facts are associated with this holy mountain. It is said that these mountain were the place where Lord Indra resided. Kulen Mountain also has famous carving of Lord Vishnu, Lord Bramah and Goddess Laxmi.
The Phnom Kulen is famed for three main things; firstly, the Chup Preah, where there is a huge Buddhist statue and many other small statues completed during the 16th century, next is Kbal Spean which is also known as Valley of a thousand Lingas – there are carvings of Lingas beneath a shallow river which may become visible in dry season and lastly the massive holy waterfall which consisting of two parts, the first waterfall drop from 4-5 meters high and around 26 meters wide, the second waterfall drop from 16-22 meters tall and around 16 meters wide during rainy seasons. This place also has a souvenir shop for tourists.
Here is a list of things to expect, to do and to keep in mind when you choose to visit this place.
It has to be kept in mind that if you want to see the Buddha sculpture, you have to climb the mountain and take a lot of steps, for around twenty minutes. Therefore, if you have a knee injury or you are not fit enough for any other reason to climb, you should reconsider your decision.
The experience that people have is surreal, peaceful and amazing at the mountain. People are often found meditating near the Buddha statue, and the experience itself is unparalleled.
The statue is considered to be very sacred. You are also not allowed to walk with shoes on while visiting the temple. There are places where you keep you shoes for a nominal amount. You also have the option of purchasing lotus flower, for giving it to the deity.
The waterfall is divided into three levels – The kings Basin, The Minister's Basin and the Commoner's Basin. These waterfalls are the one place where both children and adults have the maximum amount of fun.
You do not have to be scared to make your kids enjoy the waterfall, as for safety purposes you have to option of renting life jackets. It is advisable if you want to take a swim in the water there.
Make sure that you carry your camera while traveling to the Phnom Kulen National Park, as it is a beautiful place to get a lot of pictures click. You can rent some locker space and save your camera from the flowing water and yet have amazing memories of the place.
The place is auspicious and thus very well maintained by the managing authorities. It is neat and tidy and has a sense of serenity with positive vibes.
You can see the carved Lingas, but they may not very clear because of the water river. Make sure that you notice the details of the place carefully; it has some great architectural work.
The food available in the Phnom National Park is little expensive. Therefore, if you have a huge group and planning to spend a lot of time in the park then, carrying your own snack is a good idea. You can also rent huts in the area for eating lunch in your own groups.
At the end of the park, you can find a souvenir shop. Be sure about your bargaining skills to purchase the products you want at a good price.
May it be a group of friends or a group of family members, you are sure to have fun in this National Park. While you are on a trip to Siem Reap, Cambodia, the Kulen Mountain is a recommended place and a total value for. It is advisable to reach and leave the place in daylight, as the roads are narrow and located at the mountain.