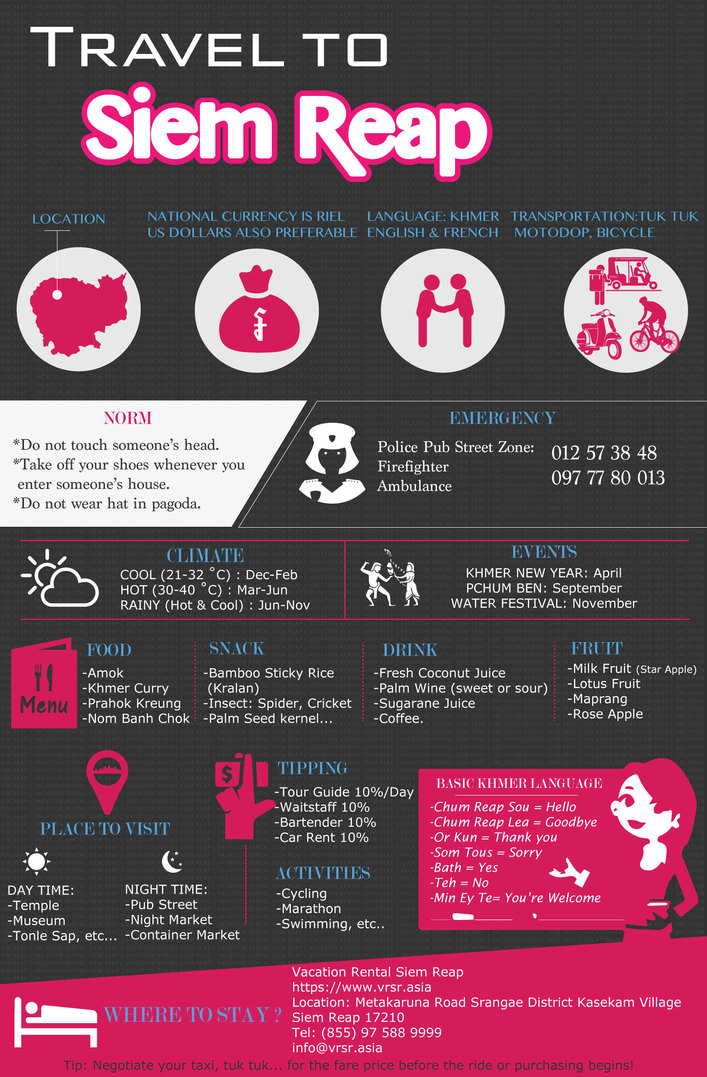 Siem Reap, Cambodia
When you talk about a resort city in Cambodia, Siem Reap comes to mind. Nicknamed "Temple Town", the city is the capital of the Siem Reap province, boasting of a rich culture, amazing architectural masterpieces, and unmatched splendour. As gateway to the Angkor region, Siem Reap has become one of the greatest and most popular tourist attractions in the whole of Asia.
History
As has been highlighted above, Siem Reap boast of a rich history. The name of the city can be translated to mean 'Defeat of Siam' and is often taken as a reference to an unlikely war incident centuries ago. Prior to the 1907 when it was ceded to French Indochina, the city had a tumultuous period, dominated by infighting among the Khmer nobility. There were constant intervention and domination of the people by Vietnam and Siam.A major turning point in Siem Reap history occurred around the 19th century when French explorers rediscovered Angkor. The French School of the Far East (EFEO), is credited for clearing the site and setting the pace for the arrival of the first Western tourists. Siem Reap fortune blossomed after the Franco-Siamese treaty of 1907 until the civil war of 1975. The city, however, has experienced relative peace and development since the death of Pol Pot, the leader of the Khmer Rouge, in 1998. It has returned to the status of a vibrant and highly attractive destination.
Points of attraction:
Siem Reap ranked among the fourth Best Cities of Travel and Leisure survey in 2014. This, of course, is due to a number of points of attractions that keep tourist pouring into the city.Here are some of the most prominent places to be;
Angkor Wat Temple: This is without doubt the central point of attraction in the whole of Asia. In this magnificent site, hosts the remains of Khmer civilization. It is not expected that anyone should visit Siem Reap without venturing into this site to behold the largest religious monument in the world. At any point, you are sure to see thousands of tourist at this site.
Angkor National Museum: This is a relatively new museum but offers whatever you need in terms of Khmer history, civilization, and cultural heritage.
Angkor Night Market: This is the place to get any kind of souvenir you need. It is a popular market that opens every evening with several stalls filled to the brim with different colourful items.
Transportation:
Siem Reap is about 7 kilometres away from the Siem Reap International Airport, which is accessible by direct flight from several airports around Asia. The city is equally accessible by bus; and also by boat through the Tonle Sap Lake. Transportation around the city can also be very smooth through cars, motorbike, scooter and Tuk Tuk.
Activities:
There are several activities that a tourist can enjoy while in Siem Reap. Some notable ones include the Cambodian circus show, Siem Reap sunrise tour & activity, a tour of the landmine museum, a visit to a Siem Reap floating village, Horse riding in Siem Reap Countryside etc.
Hotels:
There are a number of highly rated hotels in Siem Reap. Hotel Sofitel Angkor Phokeethra Golf & Spa Resort is a Five-Star hotel that is complete with a restaurant, shops, cafes, and a bar by the pool. Other great hotels include Hostelling International and Babel Guesthouse.
Restaurants and bars:
There are several quality restaurants in Siem Reap including Genevieve's Restaurants, Damnak Lounge Fine Dining, and George's Rhumerie French Fusion Restaurant. Some Bars and Pubs include Naga Bar, Prive Bar and Lounge, and Angkor Royal Café.
Siem Reap offers a great destination for holidays and weekend vacations. In case you have plans to visit anytime soon, Vacation Rental Siem Reap has everything you need to make your visit and holiday adventure in Siem Reap, an interesting and memorable one. Their vacation homes are well furnished and equipped with fully functional amenities.
Check out their official website for more information.