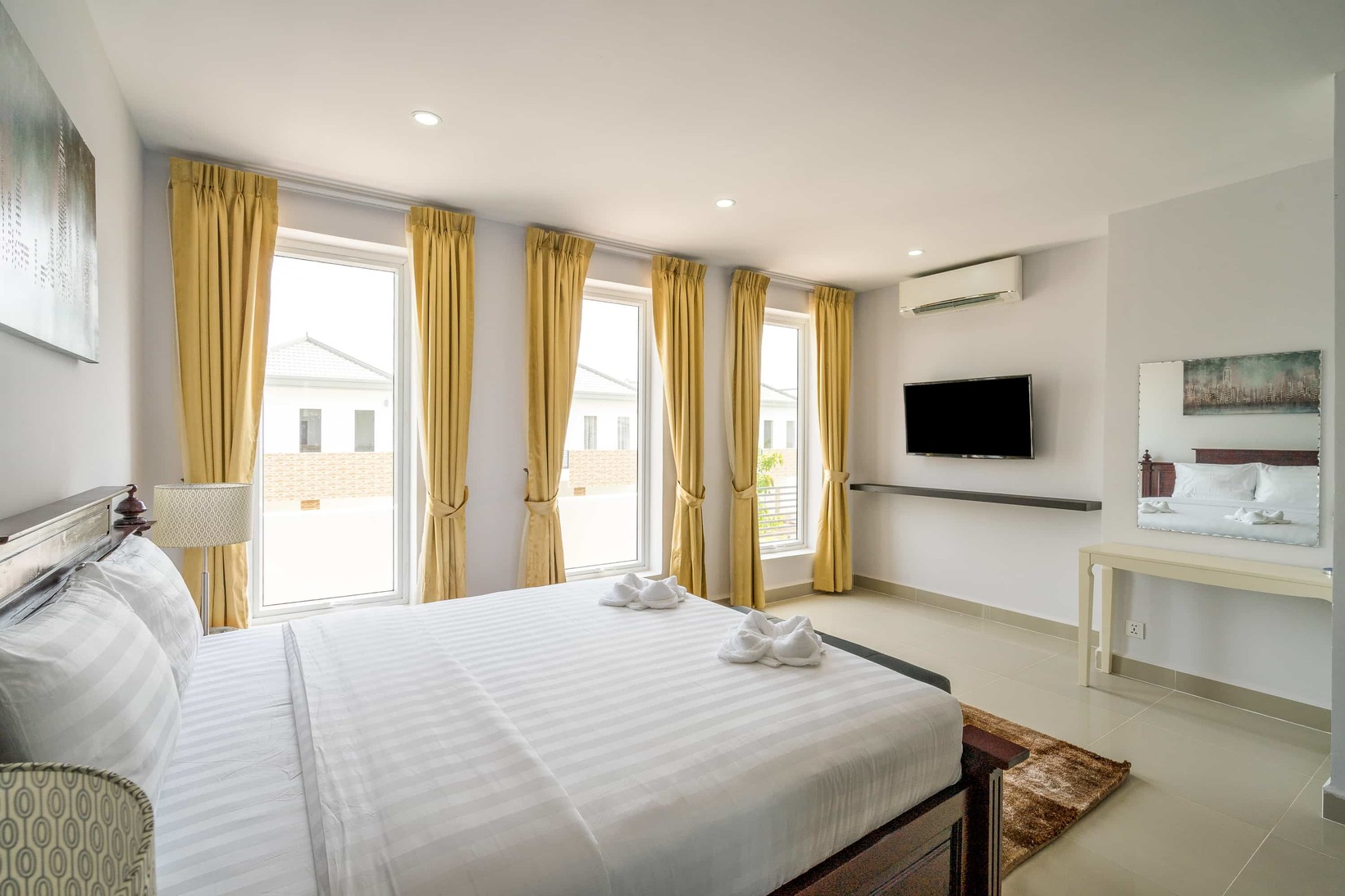 The Finest Vacation Home and Room Rentals in Siem Reap, Cambodia
The small yet rapidly growing Cambodian provincial capital of Siem Reap is one of the world's most renowned travel destinations. Owing to its location as a gateway to the unique Khmer temple complex of Angkor Wat, a UNESCO World Heritage site it is highly frequented by visitors from round the globe.
Siem Reap was just an isolated forest village until the discovery of the magnificent ruins of the Khmer civilization by French explorer Henri Mouhot in the 12th century. Siem Reap is now a mixture of traditional Cambodian life and the 21st century modernity. The town is originally a cluster of small villages in northwest Cambodia, nestles on the banks of the Siem Reap River, north of Tonle Sap Lake. Its Angkor Archaeological Park, containing the Angkor Wat complex, is now the largest construction site in Cambodia.
Well, Siem Reap is an enchanting and cheap travel location and it is recommended to base an exploration of this important historical area. Find the top Vacation Rental in Siem Reap and plan your holidays effectively. Let us find your home away from home in Cambodia so you can stay like a local in Asia.
If you want to book at the last-minute and reduce your holiday budget, book Private Rooms for Rent in Siem Reap. You can easily find your home rentals, villas, short-term apartments for rent in Siem Reap using one of the methods below:
View our selection of featured Home Rentals in Siem Reap using one of the following methods:
Use the map to find rooms and residences and other vacation rentals in the Siem Reap neighborhood you prefer.
Enter your travel dates to view the best deals on vacation rentals in Siem Reap while they last.
Look no further and take a look at our great range of rental properties in Siem Reap!
Here are some of the best home and room rentals that we have identified in Siem Reap;
1. Melbourne Residence – Modern Living
Siem Reap most privilege and private neighborhood, built during 2016 on a land area of 3 hectares in size with 47 beautiful privates villas, a few luxury with private swimming pool, available on site are coffees & mart shop, barbershop and spas and quite a few dozens of shop house within the neighborhood. Melbourne Residence is about 600 meters away from Royal Angkor International Hospital and 3.5 km away from town centers which is ideal for family or business both local and international holiday & vacation – peaceful, relaxes safe and privately.
Each Melbourne Residence Villa featuring;
3 King-size Bedrooms / AC
3.5 Private Bathrooms
2 Living-Rooms / Couches or Sofa-Bed
Dining are / Tables/ Chairs
Fully Functional Kitchen / Utensil & Condiments
Car Garaged or Street Parking
Balcony & Patio / Gardens
Refrigerator / Washer / Wardrobe / Iron & Board
2. House Jane
Situated in Siem Reap, this house offers accommodation burrowed within a tropical garden and features an outdoor swimming pool and private spa services. WiFi is provided all over the property and there is a parking on-site, both offered free of cost. The vibrant Pub Street is 1.5 km from the property.
3. Sokhdom Residence
One of our bestsellers in Siem Reap. Situated in Siem Reap, around 2.7 kms from King's Road Angkor, this residence features accommodation with free WiFi facility and access to a fitness room.
4. Rainsey Angkor Art & Home
It is located in Siem Reap within the Siem Reap Province Region, around 3.1 kms from Pub Street, Rainsey Angkor Art & Home and boasts a hot tub and water sports facilities. Angkor Wat is nearly 6 kms away.
5. The City Premium Guesthouse
Nestled in Central Siem Reap, a 10-minute walk from the Old Market, the charming The City Premium Guesthouse offers free one way airport pick-up services and value-for-money rooms with free WiFi access. It is a family-run hotel, located at a 10-minute walk from the Night Market and Siem Reap's renowned Pub Street.
6. BB Angkor Residence
Located in Taphul Village Area, this residence is within a 10-minute walk of Angkor Night Market. This residence features an outdoor pool, a fitness center, and a poolside bar. WiFi in public areas, self-parking, and an airport shuttle are also provided free of cost.
7. Annie Home
Nestled within private gardens, Annie Home offers individual villa accommodations in Siem Reap. There is an outdoor private swimming pool featured only in certain villa types. Free Wi-Fi is available throughout the property. The vibrant Pub Street and Old Market are 3 km from Annie Home.
8. Golden Temple Residence
This Siem Reap hotel known to be family-friendly is located near the airport, within a 5-minute walk of Angkor Night Market and Pub Street. Psah Chas Market and Angkor Trade Center are within a reach of 10 minutes.
9. Dora Angkor Residence
Located close to the airport, in the heart of the city, this aparthotel lies near to Wat Damnak, Siem Reap Art Center and Angkor Trade Center.
10. Model Residence and Spa
This family-friendly Siem Reap residence is within 3 kms of National Road 6, Angkor Night Market, and Pub Street featuring 2 outdoor pools, a restaurant, and a bar/lounge.
As much as you love your vacation rental, it's always good to get out and explore to soak up Siem Reap. There is a reason home rentals are so popular here—after a long day of exploration, going back to your very own living room to stretch out is a dream come true. Try out our short-term rental search engine to find your Siem Reap apartment rental or house for rent. Search for House Rentals in Siem Reap on our site.