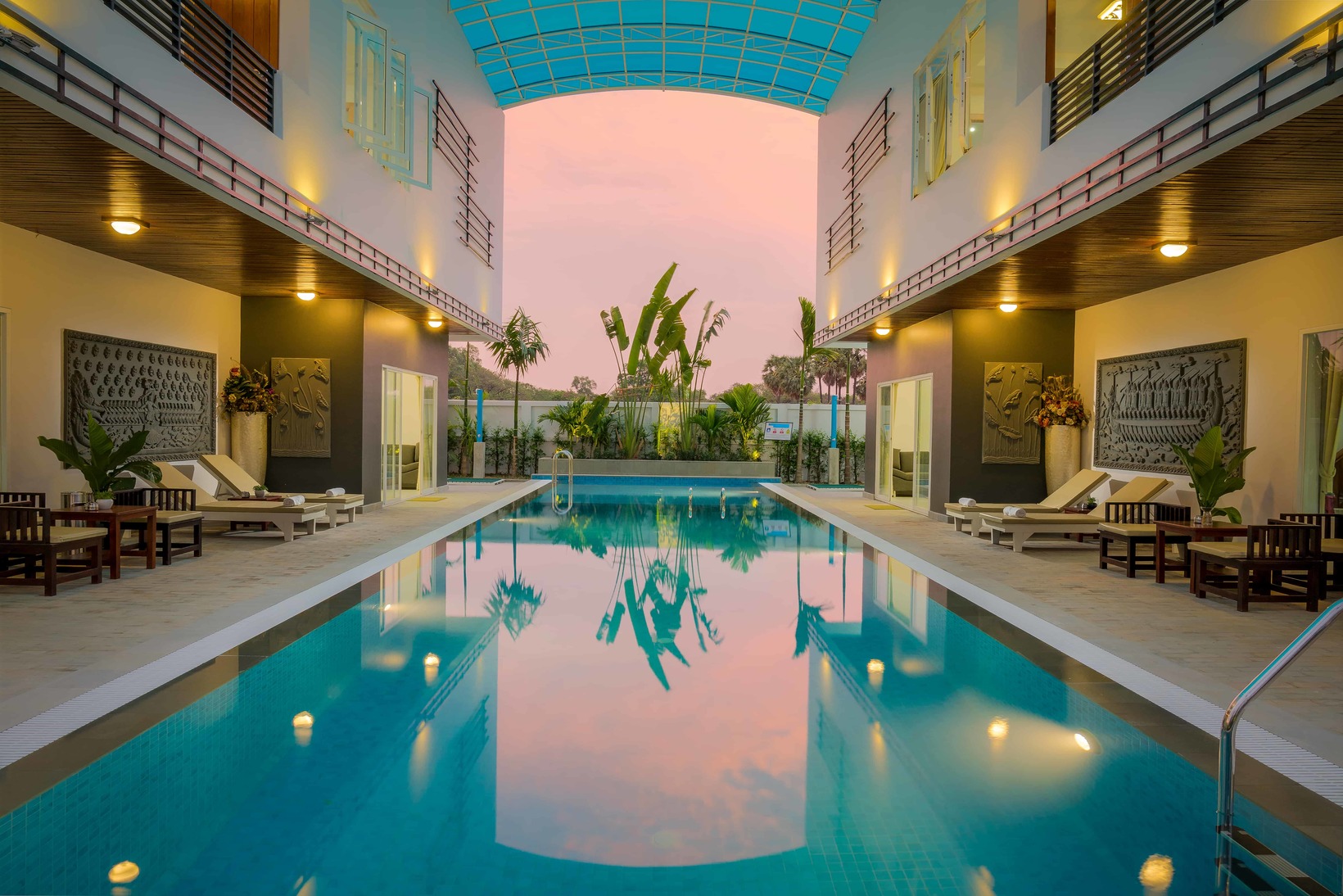 The Most Enchanting Airbnb Vacation Rentals in Siem Reap, Cambodia
Siem Reap is a contradiction that makes it such a great example of a Southeast Asian destination. Well, tradition and poverty stand side by side with chic hotels and all the trappings of modernity. There are a wide range of Vacation Rentals in Siem Reap in Airbnb to choose from. A simple Siem Reap sunrise becomes a heartfelt event as the early morning light washes over the overgrown temples of Angkor Wat. The ancient structures are contained within one of the largest religious complexes in the globe. The complex and the 12th century Angkor Thom royal city are some of the main reasons to visit Siem Reap. Get lessons in national history from the Cambodian Cultural Village and lessons in bargaining at the Angkor Night Market that comprises of a bonanza of shopping stalls, food vendors and bars. Siem Reap has 3361 Airbnbs, with prices to suit budget travelers, luxury travelers and everything in between. If you are looking for something affordable, then the lowest priced Airbnb in Siem Reap is $10 per night. The typical price of an Airbnb in Siem Reap is $75 per night.
Some of the Best Places to Stay in Siem Reap are as follows:
Phum Baitang
Phum Baitang, which is also known as green village offers quiet accommodation, nestled amidst private, lush gardens and rice fields. Phum Baitang presents a 50-meter outdoor infinity pool, a health spa and wellness centre and a barbecue area. The property comprises of 45 spacious wood-and-stilt villas and is equipped with a children's playground.
Viroth's Hotel
Viroth's Hotel is situated in the vibrant Wat Bo area. It offers accommodation in the heart of Siem Reap amidst private vertical gardens. Viroth's Hotel offers 50's-styled contemporary accommodation with free WiFi throughout the property, bragging a 20-metre outdoor pool and an open-air restaurant,
Onederz Hostel
Lying about 300 metres away from the Pub Street in Siem Reap, Onederz Hostel features a free WiFi access and free private parking facility. Tourists can enjoy the on-site restaurant and relax at the two swimming pools, one located on the rooftop where view of the sunset can be admired.
Mad Monkey
It is one of Southeast Asia's exotic social backpacker resorts. You are sure to have a great time meeting like-minded travelers and backpackers while sipping cocktails by the sun-drenched pool and playing beer pong at their Rooftop Beach Bar and Restaurant every night.
Shinta Mani
It presents housing accommodations designed in Bensley style that are located centrally in the French Quarter. It lies between the Royal Gardens and the Old Market Area of Siem Reap nestled within private gardens. It presents an outdoor saltwater swimming pool and tourists can enjoy meals at the in-house restaurant and have a drink at the bar. Free WiFi is available throughout the property.
Here are the Top 50 Airbnb Rentals in 2018 in Siem Reap
Aura Hostel & Bar Siem Reap
Jasmine Family Hostel
Melbourne Residence – Vacation Rental Siem Reap
Mysteres d'Angkor Siem Reap Lodge
The Privilege Boutique
Alis' House
Warm Bed Hostel
The Amazing Residence
Joyo Hostel
La Maison du Passant
Hangover Hostel & Bar
Golden Banana Residence
Welcome To La Residence Blanc D'Angkor
Family Suite Room @ Ree Hotel
The Wooden Natural Homestay
Superior Room @Theary's luxury Villa
Honesty Homestay
Villa Vat Atvea
Golden Mango Inn
Crown Angkor Hotel Resort & Spa
Angkor Angel Boutique Villa
The Village Pool View
Khmer Bungalow with Outdoor Pool
André Boutique Villa
Bayon Era Hotel
Garden Flower Resort
Botanic Artistry Boutique & Garden
Khmer Wooden House
The Siem Reap Homestay
Jb Home Stay Village Experience
3 Monkeys Villa Gay B&B Siem Reap
Sleeping Angkor Hotel
The Botanic Family Room
The Botanic Family Room
Hello Cambodia Boutique
White Villa Boutique
Salasara Hotel
Davyta Private Villa
Cheathata Premier Suite
Cowboy Homestay
Cheathata Premier Suite
Walking Distance in Town
Kanak Street Privet Room
The Tito Suite Residence
Garden Flower Resort
Cheng Lay Guesthouse
Siem Reap City Home Stay
Earthwalkers Guesthouse
Java Wooden Villa
Hope the aforesaid Best 50 Airbnb Rentals in 2018 guide you with your attempts in identifying the best accommodation in Siem Reap.
The advantages of Airbnb
There are plenty of advantages to using Airbnb – both for guests and for hosts:
Amazing and unique experience.
It is usually cheaper than staying in a hotel.
More space and privacy, unless you are renting the tiniest studio.
You live as locals.
You can walk down the street to the market or the local shops and interact with people as you buy your daily groceries.
Conclusion:
Just remember that Siem Reap is an extremely busy city year round. So if you want to guarantee a room in one of the best places to stay in Siem Reap, get organized and book well ahead with Airbnb.